Designing a kitchen tailored to your preferences is key to a successful project. With so many options available, it's important to think about what you want the characteristics of your kitchen to be. Do you want it to look like the original kitchen in your 1920's Arts and Crafts home? Do you want it to be uncomplicated, clean, and sleek? Or would you rather it be, bold, sassy, and up-to-date with current trends? Maybe you would like to have it all? To help you to understand kitchen styles this blog will explain three different style labels: Traditional, Contemporary, and Transitional. This may help you to better explain to your kitchen designer what your preferences are.
Traditional Kitchen Designs
Modern and Contemporary Kitchen Designs
Transitional Kitchen Designs
Traditional Kitchen Design
Traditional kitchens are generally known for their older architectural features originating from the 18th, 19th, and 20th century European and American design. If the design is tied to a particular era such as the Victorian or a particular place such as France, these kitchens are also referred to as Period Kitchens. Contrary to the kitchen styles of the present, traditional kitchens favor detail and ornamentation to create an awe-inspiring and luxurious space.
Some of the key factors that distinguish traditional kitchens from other designs are framed cabinets with inset doors, these doors often have raised center panels, multi-step crown, and base molding, more detailed ranges, and custom range hoods, somewhat ornate decorative lighting, counters made of marble, limestone or soapstone and backsplashes in stone from a simple subway format, mosaic details or ceramic tile with hand-painted patterns.
All original furniture and cabinetry throughout history were framed cabinets where the doors are set into the front frame. Full overlay doors are considered more modern and came about in the 1970s with the invention of European hinges. Raised panels were also more prevalent in period furniture and cabinet designs. Historically, various types of molding, served specific structural functions, such as supporting, binding, or separating surfaces. The "modern" range was invented in 1790.  It was more ornate and sometimes painted. Some manufacturers such as La Cornue and Aga have recreated this look which is a perfect addition to a traditional kitchen. Custom range hoods are most important to traditional kitchen design because they are often the main focal point in the room. Some of these include carved stone hoods, ornate metal hoods, plaster hoods, or wood hoods. And finally, decorative lighting helps to set the mood in the kitchen. The styles can include lanterns, various types of chandeliers, pendants, sconces or ceiling-mounted fixtures. Traditional kitchens typically use natural materials since historically, this was all that was available. These are often a combination of materials like stained wood, metals, and patterned stone which give the room a comfortable layered look. Embracing the natural imperfections of wood and stone, traditional kitchen designs are a stark contrast from contemporary kitchens which often use man-made materials that are clean and uncomplicated.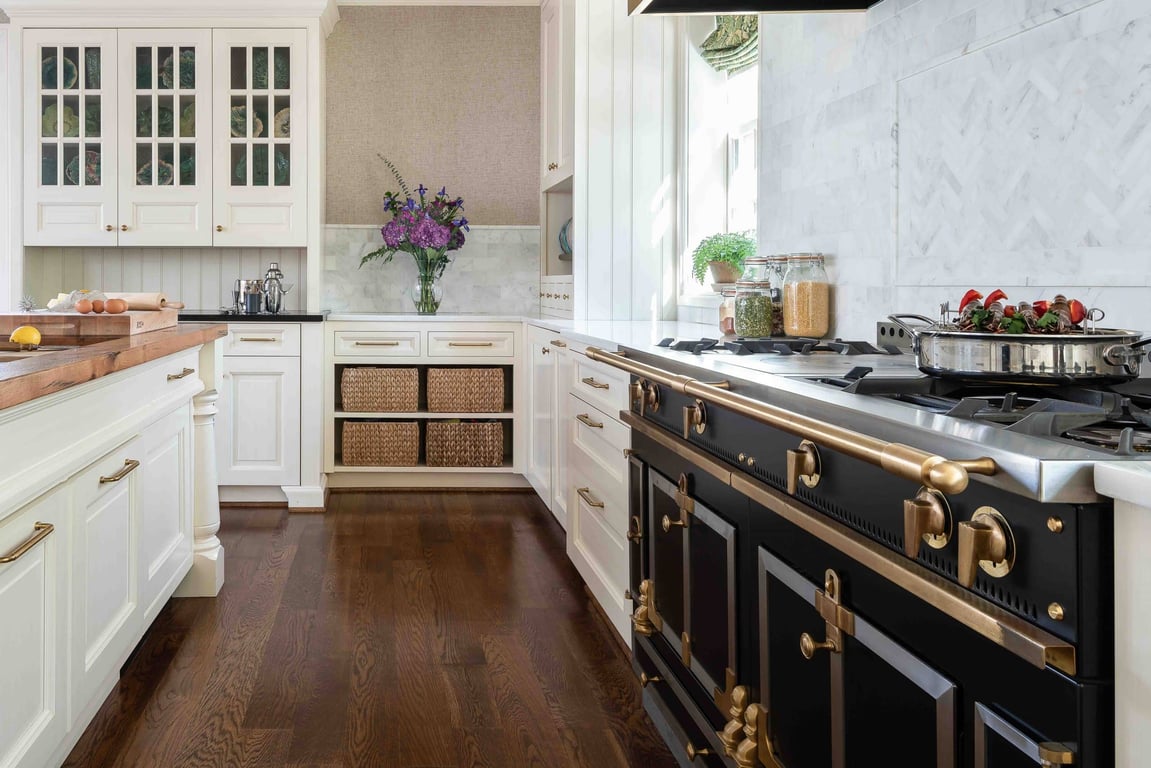 Some of the Traditional Kitchens we have designed:
Jennifer Gilmer Kitchen & Bath are the top bath and kitchen design experts in Washington DC, Maryland, and Virginia.
Contact us by calling 301-657-2500 ext. 206 or through the form below. You can also visit our showroom in Ashburn, Virginia, Chevy Chase, MD or our newest showroom in Easton, MD. Click the maps below for directions.
Modern and Contemporary Kitchen Design
It is often thought that Modern and Contemporary are the same design style probably because they do share a few similarities however the outcome is quite different.
They share the same aesthetic of a more minimalist feel, they both utilize clean, architectural lines and they are designed to keep the space more open.
Where these two design styles differ is that Modern Design refers to an era that has passed and Contemporary Design pertains to what is happening now and in the future.
Modern:   Mid-Century Modern design was born in the 1950s and '60s and is presently one of the most popular modern design styles that, in the last 5 years or so,  has made a comeback for both furniture and kitchens. Another example of Modern would be the Art Deco design of the 1920s or the technicolor decade of the 1970s.
A popular cabinet door style is one which has a very narrow frame, unlike the 2-3" frames used in traditional kitchens, these frames are ¾-1 ¼".  Another door style can be just a simple flat door, whether painted or natural wood, with a handle that works with the Mid-Century Modern look.
Modern design typically features earthier elements, natural wood finishes.  The colors used in Modern design use an earthier hue in colors like avocado green, harvest gold, browns, and turquoise.  Contemporary: The word 'contemporary' means, "pertaining to this current time".  Kitchens designed in this style have a 'State of the Art' look and feel to them.
Contemporary incorporates more crisp details like flat cabinet doors that can be either a matte finish or more likely a high gloss finish squared-off countertops.  We see more cutting edge details like glass which, for backsplashes, is sometimes back painted in an accent color.  Other materials are various metals, more simplified range hoods and decorative lighting.
This design is not so much about each particular material attracting attention but rather more neutral colors and shapes put together in a pleasing composition, sometimes incorporating an accent color which, unlike the earthy tones of Modern design, are more saturated and pure.
These two design styles can work well together so their various elements can be mixed and matched.  I often refer to this as 'Warm Contemporary".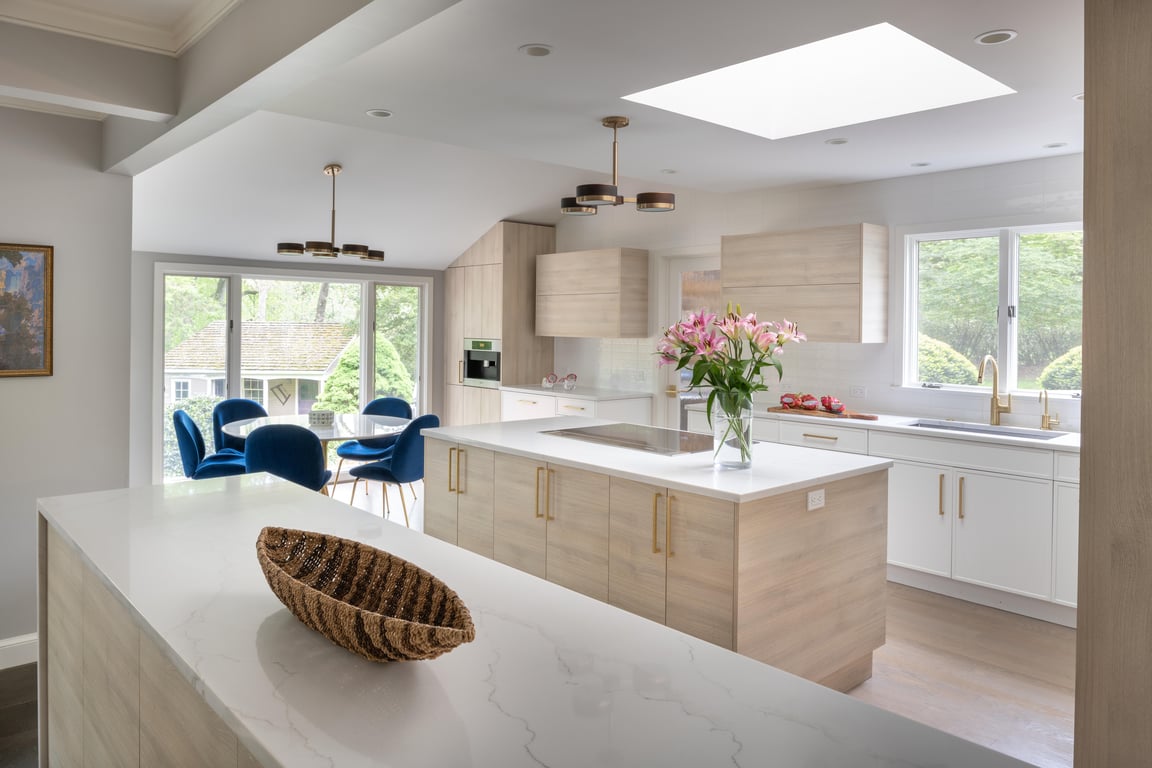 Some of the Contemporary and Modern Kitchens we have designed:
Best of Houzz Design
2015, 2016, 2018, 2019, 2020
Transitional Kitchen Design
Transitional kitchens are one of the most popular design trends sweeping the nation. 65% of kitchens designed in the past year were transitional, more than double the kitchens that were traditional, contemporary or farmhouse, according to Tricia Zach, Market Research Analyst at the NKBA. Known for being very clean and relaxed, transitional kitchens can be considered simplified, more tailored traditional kitchens that incorporate some modern/contemporary details.  Some of these kitchens can lean more toward traditional or contemporary depending on how the materials are mixed and matched.
They are often white or off white but also use colors such as blues, grays, greens and/or beiges. Transitional cabinets are often light or medium in color painted wood, wood grain, or mixed materials.
Cabinet doors are typically referred to as "Shaker" meaning a door with a flat center panel and crisp square 2-3" frames.  Full overlay doors are best for this style, meaning doors that cover the entire cabinet rather than traditional doors that are set into the frame of the cabinet.  This helps to create the uncomplicated, clean look that is required for a true transitional kitchen.
This style of the kitchen can lean toward a more traditional look by using marble countertops and more traditional hardware but if a more contemporary feel is desired, this can be attained by using solid color quartz countertops and more contemporary hardware. Also, countertops can be thicker than 1 ¼", and adding a waterfall edge (where the edge turns down and continues to the floor) onto the island or the end run of cabinetry is a nice touch. The flooring is typically wood.
For backsplashes, large-format tile or full height backsplashes work well but again, if a bit more of a traditional feel is desired, ceramic, porcelain, and stone are good options.
Transitional kitchens blur the lines of contemporary/modern kitchens and traditional kitchens. They let you get the best of both worlds,  which explains why this trend has been a popular one for at least the past decade.  There are so many possibilities since you can mix styles.
Some of the Traditional Kitchens we have designed: